HOUSE & GARDEN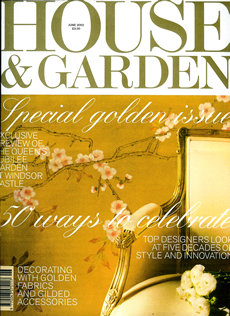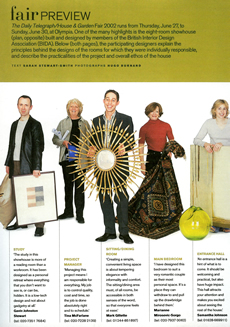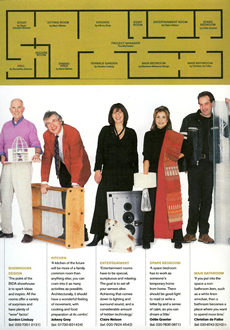 The Daily Telegraph/House & Garden Fair 2002 runs from Thursday June 27, to Sunday, June 30, at Olympia. One of the many highlights is the eight-room show house built and designed by members of the British Interior Design Association (BIDA). The participating designers explain the principles behind the designs of the rooms for which they were individually responsible, and describe the practicalities of the project and overall ethos of the house.
Study
'The study in this showhouse is more of a reading room than a work room. It has been designed as a personal retreat where everything that you don't want to see is, or can be hidden. It is a low tech design and not about gadgetry at all'.
Gavin Johnston Stewart
Project Manager
'Managing this project means I am responsible for everything. My job is to control quality, cost and time, so the job is done absolutely right and to schedule'.
Tina McFarlane
Sitting/Dining Room
'Creating a simple convenient living space is about tempering elegance with informality and comfort. The sitting/dining area must, of all rooms be accessible in both senses of the word so that everyone feels at ease'.
Mark Gillette
Main Bedroom
'I have designed this bedroom to suit a very romantic couple as their most personal space. It's a place they can withdraw to and pull up the drawbridge behind them'.
Marianne Mirosevic-Sorgo
Entrance Hall
'An entrance hall is a hint of what is to come. It should be welcoming and practical, but also have a huge impact. This hall attracts your attention and makes you excited about seeing the rest of the house'.
Samantha Johnson
Showhouse Design
'The point of the BIDA showhouse is to spark ideas and inspire. All the rooms offer a variety of surprises and have plenty of "wow" factor'.
Gordon Lindsay
Kitchen
'A kitchen of the future will be more of a family common room than anything else; you can cram into it as many activities as possible. Architecturally, it should have a wonderful feeling of movement, with cooking and food preparation at its centre'.
Johnny Grey
Entertainment
'Entertainment rooms have to be special, sumptuous and relaxing. The goal is to set all your senses alive. Achieving that comes down to lighting and surround sound, and a considerable amount of hidden technology'.
Claire Nelson
Spare Bedroom
'A spare bedroom has to work as someone's temporary home from home. There should be good light to read or write a letter by and a sense of calm, so you can dream a little'.
Odile Granter
Main Bathroom
'If you put into the space a non bathroom item such as a white linen armchair, then the bathroom becomes a place where you want to spend more time'.
Christian de Falbe